Aboard the Holistic Holiday at Sea vegan cruise, there are countless opportunities to unwind and rejuvenate. In addition to amazing wellness classes and the world-class spa, there are multiple swimming pools for play, rest, and relaxation.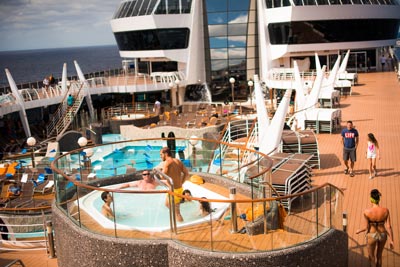 Nourish your body and mind while soaking up the sun at one of the sparkling salt-water pools. Splash into the aqua waters of La Sirene, a covered pool on deck 14, or plunge into the Aqua Park with over 22,600 square feet of watery excitement. The Aqua Park features spraying fountains, hot tubs, pool bars, and a water slide.
Take a dip in one of a handful of whirlpool tubs or relax in a lounge chair.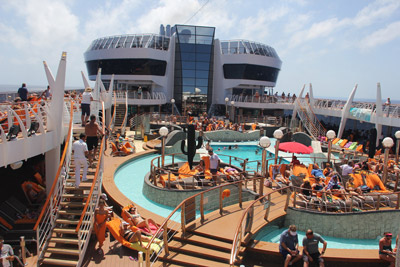 Want to see the sea, poolside? Experience the tranquil infinity pool that extends seamlessly out to sea and into the horizon beyond. It's beautiful and mesmerizing.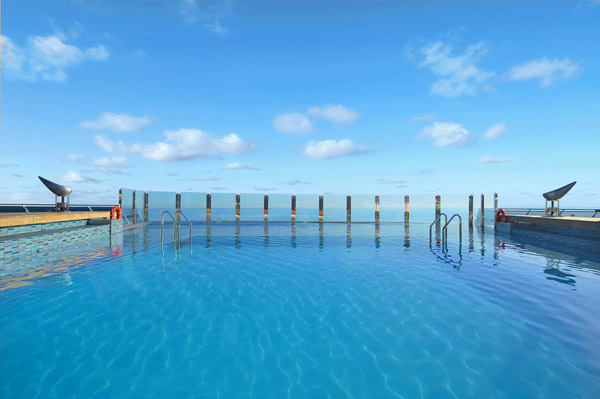 Making The Most of The Pools
Before you join us poolside, here are some important things to keep in mind.
The pools are open 7 am to 10 pm. Times are subject to change. Check the daily planner once onboard.
There's no need to bring your own towel as the ship provides fresh towels everyday.
There are no balls or floaties in the pool, but there are organized games and competitions (i.e. belly flop, dance classes) at certain times that can be found on the daily program.
We do not provide sunscreen, but you can bring your own or purchase it onboard.
There are shaded areas by the pools for those who don't want full sun.
There is a shallow pool area at the main pool on Deck 14, which is perfect for kiddos.
We recommend bringing a sweater or light jacket to the pool area because it can get chilly once the sun goes down.
There are two bars (Poseidon and Tritone) where you can order poolside drinks, though  drinks cannot be taken into the pool. You can also get food from the buffet and eat it outside where there are tables and chairs.
Whichever pool you choose, we hope you enjoy the sunshine, breeze, and relaxation!