During our Holistic Holiday at Home virtual experience, you'll have the opportunity to engage in multiple fitness and mindfulness classes each day. Join us July 26-August 1 for an online journey to optimal health and wellness with the leading plant-based experts, for 7 days of learning, inspiration, and connection, all from the comfort of your home!
Basic access includes:
Motivational health lectures from world-class vegan athletes
Reset and VIP ticket holders will receive:
Live Fitness and Mindfulness Classes
We're planning to have 1-2 live fitness classes each day rotating between yoga, functional fitness, resistance training, and Qi Gong. Our popular Holistic Holiday at Sea cruise instructors, who are all experts in their own right, will be leading the classes.
---
Yoga

Beginner Vinyasa Flow with Angelica Kushi
Feel awesome alignment with a foundational Beginner Vinyasa Flow Yoga class for newbies and life-long yogis alike. Angelica Kushi, a Holistic Holiday at Sea yoga teacher and health and wellness educator, will be guiding these fun, energizing, and educational classes. Angelica's formal training is from the Kushi Institute, the Institute for Integrative Nutrition, and extensive studies in Yoga and Tibetan Buddhism with the Asian Classic Institute and Yoga Studies Institute. To learn more about Angelica, follow her Instagram.
Chair Yoga with Alese Jones
Chair yoga, a gentle and safe form of yoga, is easy on the body and offers the same body-mind benefits of a traditional yoga class, including reduced stress and enhanced relaxation. Alese Jones, who has over 25 years of experience in asana practice and 10 years of experience in meditation, will be leading these classes.
If you are experiencing physical limitations or don't want to get down on the floor, this is a great class option for you. Postures and gentle stretches are done sitting or standing with the support of a chair for balance. Alese received her teacher training in 1982 from Swami Satchidananda's Integral Yoga Certification. Since then she has studied extensively with Sarah Powers from whom she received her Yin/Mindfulness training. She is also certified in Ashtanga, Primary Series with David Swensen.
---
Functional Fitness with Robert Cheeke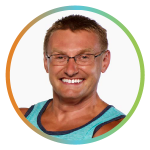 If you've been on the cruise, then you know there's only one Robert Cheeke! Join champion vegan bodybuilder Robert Cheeke and learn how to complete total body exercises for a full-body workout without any special equipment. Learn fitness and diet and nutrition tips all while having a fun workout. Exercises will be at varying levels of intensity, based on each individual's interest and experience.
As a two-time natural bodybuilding champion, Robert is considered one of VegNews magazine's Most Influential Vegan Athletes. He tours around the world sharing his story of transformation from a skinny farm kid to champion vegan bodybuilder. Robert is the founder and president of Vegan Bodybuilding & Fitness. He writes books, gives lectures, and maintains the popular website VeganBodybuilding.com.
---
Qi Gong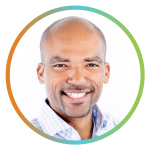 Marcus Gary will teach Qi Gong classes. These classes will provide instruction on the 3000-year-old Medical Qi Gong postures and sounds to use to purge the toxic energies out of the major organ energy systems (liver, heart, spleen, stomach, lungs and kidneys). Marcus has over 25 years of experience with holistic living and wellness. Marcus is an instructor of yoga, Nei Kung Qi Gong, meditation, male virility and Power Yoga. For over 13 years, he has instructed Qi Gong classes in Oakland, San Francisco, Sacramento, and Los Angeles.
---
Resistance Training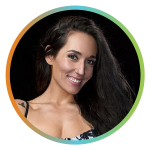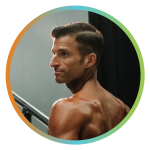 Husband and wife duo Dani Taylor and Giacomo Marchese will be teaching at-home resistance and weight training. For this class, you'll need one or more resistance bands.
Dani Taylor is a champion figure competitor and a full-time vegan bodybuilding coach.
Giacomo Marchese has been vegan for over 15 years and involved with fitness for more than 20 years in many different arenas. As an athlete, Giacomo actively competes in bodybuilding and powerlifting. He has won several awards and holds a champion title in both sports.
Together, Dani and Giacomo co-founded VeganProteins, an online coaching business. They also co-founded Plantbuilt, the largest and most diverse team of vegan strength-based athletes in the world.
---
Pre-Recorded Classes
The details are still coming together for our pre-recorded classes. As of now, there will be multiple motivational talks from a handful of well-known vegan athletes, including pro-fitness athlete Natalie Matthews. Athletes will discuss their training, lifestyle, fitness routines and share tips for people trying to stay fit from home. Stayed tuned for more details!
A 5K Beginner's Running Training Program
Matt Frazier, Founder of No Meat Athlete, is offering their 5K Race Kit, a 5K beginner's running training program that's part of his online learning library. It includes goal setting, training plans, plant-based meal plans, and more.
Mindfulness and Meditation
We'll also be offering a handful of pre-recorded meditation exercises from at least three different mindfulness experts. We will have one or more mindfulness exercises or meditation classes offered each day. We'll also have at least one large live group meditation.
---
Learn More and Register
This is just a small glimpse of the fitness and mindfulness classes you'll be able to join as part of the Holistic Holiday at Home experience. Please click here to learn more and register for this free event. These amazing health and wellness experts will be coming together online to help you get healthier at home.